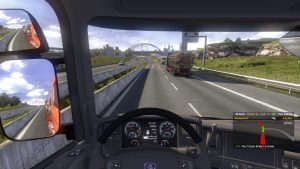 "One more turn" is to Sid Meier's Civilization what "one more trip" is to Euro Truck Simulator 2, the latest truck simulation game from SCS Software, a company that has been creating such titles for over a decade. Yes, it might surprise you to learn that Euro Truck Simulator 2 is essentially crack in the form of a video game. If you've previously laughed off this title for its seemingly simplistic, even boring premise (the truck simulation genre hasn't exactly garnered much attention outside of its niche, after all), then you've actually done the right thing by preventing yourself from becoming completely and utterly consumed by the unlikeliest of things: a truck simulator. Ever since I purchased Euro Truck Simulator 2 a few weeks ago, I've spent an unhealthy amount of time playing it. Below, I'm about to tell you why this game is so addictive and why you should avoid it at all costs unless you're content with it stealing your soul and talking to you in your sleep.
On the outside, Euro Truck Simulator 2 doesn't look like much more than a game in which you, well, drive trucks around Europe. Although that isn't necessarily an inaccurate description, there's obviously much more to it than that. On the outset you choose a name, logo, and location for your very own trucking company and one of many ugly mugs to represent yourself. Before you can actually run your own company, however, you must first scrounge up enough money to buy a truck by either driving for other companies, taking out a loan (or two) from the bank, or both. When I began, I chose the former route and grinded for hours and hours until I'd earned enough cash to buy one of the cheapest trucks among the dealerships I'd discovered across Europe. There are eight brands of trucks in the game, ranging from DAF to Volvo, and every model features a slew of customizable parts. Knowing little to nothing about the differences among the brands, I luckily settled on a cheap Volvo and later came to find out that it's perhaps the best brand of truck in the game with support for powerful engines and huge gas tanks.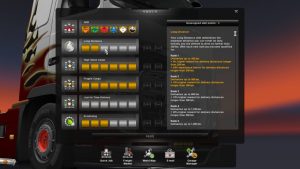 After purchasing a truck, the game opens up and you've really, in regards to addiction, reached the point of no return. You can buy additional trucks, hire drivers to drive those trucks (and bring in a steady flow of cash), upgrade or buy new garages to support more trucks and drivers, and even pimp out your very own truck and use it perform deliveries and earn more money than if you were driving for someone else. There are also role-playing elements in place like experience, leveling, skills for you and other drivers, and cities that are "discovered" when you first visit them, making them the equivalent of a role-playing game's "towns" from which you can obtain "quests" in the form of cargo delivery jobs. In the cities themselves, you can also discover brand new truck dealerships and driver recruitment agencies and even drop by the local mechanic to repair, upgrade, or paint your truck. Needless to say, there's a whole lot to do in Euro Truck Simulator 2 — so much, in fact, that you should easily be able to squeeze at least 10-20 hours of gameplay out of it before you feel like you've experienced everything that it has to offer.
What makes Euro Truck Simulator 2 so addictive is that the game's many elements link together to keep you playing for just "one more trip," as I alluded to in the opening line of the review. Let's say, for example, that you've just picked up some cargo from one city and decided that after you deliver it to another, you're going to call it a night. After completing your delivery, it just so happens that you gained enough experience points from the trip to level up, granting you a skill point that you can spend on one of many skills (most of which are related to the types of cargo you can haul). After improving a skill, you check the job listings for the city you're in and spot one that will earn you a high amount of money per kilometers driven — and best of all, it's a rather short drive! You bite your lip, then give in and accept the job. "Just one more trip," you say to yourself, "then I'm done." After delivering the goods in the target city and resting, you notice that you've nearly enough money to upgrade one of your garages, which means more drivers and therefore more money! But even "nearly enough" isn't enough. You check your list of drivers to see if any will be completing a job soon, providing you with the extra little bit of dough you need. You see that one of them will be finishing up in just one hour of in-game time, which is little to no time at all. You would really like to upgrade your garage, so suddenly that becomes your night's goal. You check your World Map and notice that a city adjacent to the one you're in hasn't yet been explored. Not only will the drive to that city grant you some experience and burn just enough time for your driver to finish his job, but you might even discover a brand new recruitment agency from which you can potentially recruit a better driver for one of your upgraded garage's extra slots. You bite your lip once more, then put the pedal to the metal. "Just one more trip."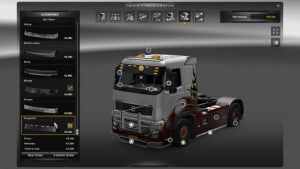 Unfortunately, despite having numerous features I often wish that Euro Truck Simulator 2 had just a few more. I feel that the game is perhaps a bit too forgiving, for example, and would benefit from more threats to your company and cash flow. Really, the only way to hemorrhage money is to take out more loans from the bank than you can pay back. Drivers must be paid for their services as well, but every one that I hired was able to earn me plenty more than I had to pay them for their salaries. I would like to feel pressured by, say, rival companies whose popularity and performance might threaten the existence of my very own. Such companies don't exist, though, or at least aren't indicated in any way despite there being many trucks on the road carrying the same types of cargo as you.
Graphically, the game is easily the most gorgeous truck simulator to date. Interiors and exteriors of vehicles are exquisitely detailed, high dynamic range lighting, sun shafts, and soft shadows lend beauty to sunny days, and as rain clouds move in, the sky and world around you darken just before precipitation begins to accumulate against your windshield. Euro Truck Simulator 2's cities and towns feature quite a bit of variety, too. For example, England's farmland, featuring flowing hills and winding roads, is in stark contrast to the flat, highway-dominated landscapes found elsewhere in Europe. The game's user interface is also excellent, showing you important information without ever feeling cumbersome or intrusive. There's even an incredibly handy GPS with screens that you can cycle through to see your current location and suggested route or even details about your current job. Better yet, some models of trucks have this GPS built right into their dashboards so that you can either remove the one that's part of the interface and get it out of the way or change what's shown on its screen and therefore be able to monitor two different types of information at once.
Overall, Euro Truck Simulator 2 is an exceptional truck simulator that looks and plays better than any other to date. Not only is it cheap, fully-featured, pretty, and reliable (in over 60 hours of play, I've yet to experience a single crash), but it's even moddable, which means features that I wish were included (like competitive companies) might very well make their way into the game by way of mods. Even if such mods never see the light of day, however, the base game is still good enough so that you should get more than your money's worth out of it. If you're still on the fence and aren't concerned with becoming hopelessly addicted to a game that you'll probably be embarrassed to admit playing, there's a free trial available on the game's official website that allows you to play for an unlimited amount of time but restricts you from accessing some areas and features. The folks at SCS Software have truly outdone themselves with Euro Truck Simulator 2 and I feel that it has something to offer for everyone from newcomers to "hard mother truckers." Now, please excuse me while I alt-tab back into the game for just "one more trip."