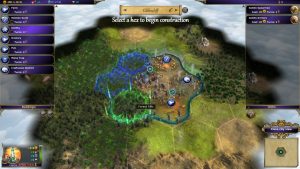 What if Sid Meier's Civilization V wasn't based on the long term, historical progression of a nation, but instead revolved around a powerful mage leading his empire to victory through might and magic? Paradox's Warlock: Master of the Arcane is perhaps the best answer to that question. Warlock takes many of Civilization V's elements — a hex grid, combat in which ranged units can shoot across tiles, and the franchise's trademark empire building — and turns it upside down with an intense focus on war and many unique gameplay features that harken back to past fantasy turn-based strategy games like 1994's Master of Magic and 1999's Age of Wonders.
The moment you fire up Warlock and start a new game, you're asked to specify how you want the world to be randomly generated and can choose a pre-made mage or customize your very own. To get the most out of the game, it's best to opt for the second choice and create your own mage. Although you can edit superficial properties such as your mage's name, portrait, and your empire's color, you can also choose your starting race and assign 10 points to one of many perks and spells. The game's three races — Humans, Monsters, and the Undead — differ in multiple ways, including which structures and units their cities can produce. Humans, for example, often require food to support their troops, whereas the Undead require mana and can even construct mana farms inside their cities to produce mana each turn rather than food like a regular farm.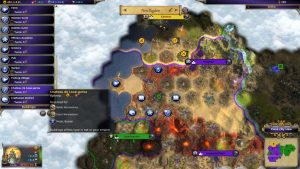 Warlock's city building is among the best I've seen in the genre. As opposed to Civilization V's cities that are always visually represented by one hex no matter how many structures they contain, in Warlock structures are individually placed on free hexes within your city's boundaries. Better yet, some hexes contain special resource nodes on which unique structures can be placed for special bonuses. Hexes containing pumpkin patches and pigs, for example, can be home to pumpkin and pig farms which output more than regular farms. Other nodes include magic sites, minotaur caves, and even holy ground.
Rather than spending time researching technologies like in Civilization, in Warlock you research a wide variety of spells that you can cast on any turn to try and tip the odds in your favor. These range from offensive spells like fireballs and shadow bolts to defensive ones like melee and ranged resistances. There are even support spells that can be cast to summon friendly units that remain until death — upkeep and all. Although there exists a spell tree in which researching one spell leads to another, there's no in-game representation of it and it isn't even shown anywhere in the game manual or beginner's guide. Researching one spell to cut a path to a life saver in a dire situation is highly possible, for example, but since it's never made clear which spells lead to or are requisites for which, it's unfortunately not a tactic you can purposely utilize.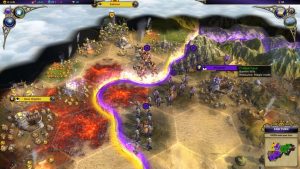 One of my favorite elements of Warlock is just how solid its early-game mechanics are. It gets you into the action quickly to say the least. On the first turn, for example, you're provided a melee and ranged unit with which to scout and do battle. Your main city can fend for itself with ranged attacks, so you don't even have to worry about garrisoning units inside it unless there's a major threat inbound. As your units explore the wilderness, they'll encounter monster dens that can be looted for resources, spells, or even units once their protectors are slain, small enemy cities that can be weakened, then captured to serve as one of your own, and even portals that lead to strange worlds thriving with powerful monsters and special resources and bonuses. Even in the first five or ten turns of the game, you'll be engaging in combat with all kinds of foes and completing quests, which leads us to the next point.
Questing is a staple in most fantasy titles and here, it's implemented brilliantly. At certain intervals in the game, sometimes even at the very beginning, you're assigned quests which task you with either killing one or more monsters, constructing a building in one of your cities, or even founding a new city in an allotted number of turns. Upon completing these quests, much like looting monster dens, the rewards range from extra resources to brand new units. Although failing some quests results in no penalty, others give you a slap on the wrist by decreasing your status with the gods — something that seems insignificant at first but can cripple you later in the game once you gain access to powerful spells that require a certain standing with the gods to cast. I would have liked to have seen a greater variety of quests, but I think they work to improve the game by giving you even more incentive to continue playing for just "one more turn."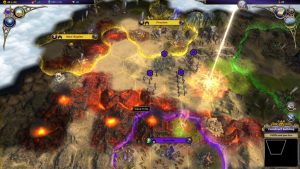 One area in which passive players might be put off by Warlock is that of diplomacy. Although rival mages do exist, most of your interactions with them will consist of handing over resources when they demand them or engaging in all out war. Non-aggression pacts can be formed by handing over some mana or money and you can make demands of your own, but those are the only alternatives at your disposal. In most games, expect brutal wars sparked by ridiculous resource demands that would put you in the hole if you were to follow through with them. Although there are victory conditions that don't require demolishing the empires of others, because of resource demands alone you'll need to maintain a powerful economy to meet them.
Presentation-wise, Warlock delivers on all fronts. Its interface is clean and streamlined, the game's visuals are colorful and detailed, unit animations are fluid, and the voice acting and soundtrack are top notch. The game's engine performs outstandingly, too, delivering high frame rates even on large maps with multiple rival mages and alternate worlds and tons of activity.
In some ways, it's hard to believe the quality of product Paradox has published for just $19.99. Warlock is an addictive, charming game that's just as fun to look at as it is to play. I can't recall the last time that I was so engrossed with a strategy game, I sat down to play for just an hour or two and found myself still glued to the computer in the wee hours of the morning. Although it could be improved in some areas, especially documentation and diplomacy, and is oddly missing features such as the ability to demolish buildings, Warlock's developers have managed to beautifully merge Civilization V's look and feel with the magical nature of older titles like Master of Magic while implementing many unique ideas of their own. Although multiplayer is currently missing, the developers have stated that they're considering adding it for free in a future update. Needless to say, unless you're pinching pennies and refuse to play any turn-based game from which Sid Meier's name is absent, Warlock is an absolute must-play. For every bad taste pathetic past efforts have left in your mouth (Stardock's disastrous Elemental: War of Magic comes to mind), this one offers a nice, big glass of water to rinse it all out and then some.