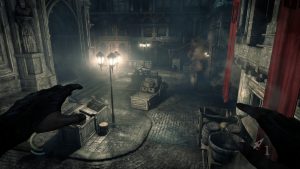 It's been 10 long years since the last Thief game, 2004's Deadly Shadows, hit store shelves. For whatever reason, the franchise that pioneered and arguably reinvented the stealth genre more or less vanished in the mid 2000s as those like Hitman and Splinter Cell sprang up, then borrowed and capitalized on its formula. Thief fans have since had to resort to modding older games and playing The Dark Mod, a fan-made spiritual successor to the original 1998 game, to get a modern Thief experience. That is until now.
The first thing that must be said about this latest entry in the franchise, simply titled Thief, is that it's a reboot, not a sequel.  As such, it's a different animal than its predecessors.  Unlike past Thief titles, which essentially tossed you into open levels and tasked you with stealing valuables in any way you pleased, 2014's Thief takes a significantly more linear approach that places emphasis on story and atmosphere.  That's not to say it isn't a great game in its own right, though, as it does a surprisingly good job of combining elements of the original games with more modern ones, resulting in a stealth title that feels both familiar and fresh at the same time.  It's somewhat akin to Hitman: Absolution, which mostly eschewed  Hitman's trademark sandbox elements in favor of relatively straight-forward, narrative-driven levels, albeit with better results.
The game takes place in The City, a dark, dying metropolis ravaged by disease and corruption.  A plague known as The Gloom has taken the lives of most of The City's good people and dozens of guards, under the Baron's orders, endlessly patrol the streets, looking to enforce a city-wide lockdown by doing away with people like you.  Practically every house has been abandoned and there is no sunlight of which to speak; rather, night is forever.  Indeed, Thief sports one of the darkest, dreariest settings in any game to date.  It even makes the one found in Dishonored, which is similar in its theme, seem bright and cheerful in comparison.
Despite it being a reboot, you reprise the role of long-time protagonist Garrett and he's more or less the same old thief:  Black cloak, proficient with the blackjack and bow and arrow, and eager to steal everything he can possibly get his hands on.  Thievery isn't all Garrett has on his mind this time, however.  The story revolves around the disappearance of Erin, a female apprentice who Garrett had taken under his wing.  While on a mission together atop The City's Northcrest Manor, they witness a strange ritual being performed below.  Erin, being naive and reckless, advances ahead of Garrett only to break through a glass ceiling and fall directly into the center of the ritual just as it's reaching its conclusion.  She is seemingly consumed by its power and Garrett, in an effort to rescue her, swings down on a rope before being knocked unconscious by falling debris.  After having been in a coma for roughly a year, he awakens in The City, now plague-ridden and locked down, and vows to find and save Erin.
The City, which serves as a pseudo-open-world hub, is where you'll roam between missions.  There, you can purchase items and upgrades from vendors, take contracts (aka side missions), and even loot streets and houses for valuables and collectibles.  Oddly enough, there's no fast-travel system which means that you must always tread lightly to avoid alerting guards who are present in almost every area.  Needless to say, maneuvering through the same streets and sticking to the same shadows in order to slip past the same guards walking the same paths gets pretty old after the fifth or sixth time.  Granted, it's a nice way to sharpen your stealth skills and experiment with your abilities without having to worry about compromising an important mission, but it would have been nice to be able to access sections of the city with just a few clicks of the mouse rather than being forced to travel by foot.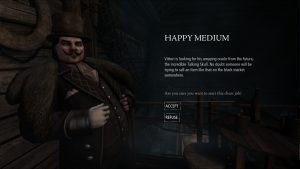 Thankfully, the missions themselves are far less tedious and much more fun.  Although linear to a certain degree, they're designed in such a way that almost always presents you with two or more paths to take.  In fact, I believe they contain some of the best level design we've seen in the stealth genre to date.  One that impressed me the most tasked me with infiltrating a several-story house and confronting The City's lead architect.  When I reached the house, although the next waypoint was inside the house itself, there were multiple ways to get inside. I could sneak through the front door, knock down a ladder with an arrow to sneak through a second-story window, or even activate a hidden rotating wall in a greenhouse to come up through the basement!  Another mission takes place in an asylum and borrows more than a few techniques from first-person horror titles like Amnesia and last year's Outlast.  I won't spoil what you'll encounter there, but I will say this:  Be sure to have extra pairs of underwear on standby!
The developers at Eidos Montreal have also done a fantastic job of providing you with enough cool abilities and tools to make you feel as if every obstacle can be overcome in a number of ways.  One such ability, Swoop, allows you to perform a quick dash in order to move from shadow to shadow.  It's almost like a lite version of Dishonored's kick-ass Blink ability and can be used an unlimited number of times.  Another interesting ability is Focus, which initially just makes loot and other important items glow but can be upgraded to slow down time, soften your footsteps, and more.  Unlike Swoop, however, Focus is limited and can only be replenished by consuming poppy flowers, therefore it's best used sparingly.  Outside of abilities, there are also many different types of arrows you can fire from your bow like water arrows for extinguishing torches, choke arrows for incapacitating foes with clouds of gas, and rope arrows for reaching previously inaccessible areas.  Other notable tools include the wrench, which can be used to access vents ala Deus Ex, the razor, which can be used to cut out paintings and keep them for yourself, and the wirecutter, which can be used to disable traps and security systems.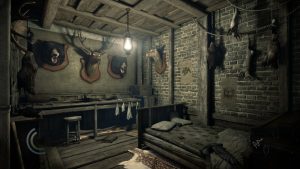 One aspect of the game that leaves much room for improvement is that of combat.  Although stealth is handled brilliantly, if you ever goof up and try to engage enemies in direct combat rather than flee the scene, you'll soon discover just how unsatisfying it is.  Since most foes quickly close the distance when alerted, rendering your bow useless, the majority of combat devolves into striking with your blackjack, then pressing the dodge key the moment an attack comes your way.  Since a successful dodge guarantees you'll take no damage, especially in one-versus-one scenarios in which you can't be blindsided or caught by consecutive attacks, you'll more or less stand in one spot for several seconds, swinging at the same enemy and occasionally dodging his attacks before he finally drops dead.  This is especially true on higher difficulty levels since enemies have more health and therefore can absorb a ridiculous number of hits before going down.
Visually, the game is fantastic and really flexes the Unreal Engine's muscles.  Even with all its fancy lighting effects, though — especially those seen in The City's eerie, misty streets — what surprised me the most about Thief's visuals was just how detailed houses' interiors were.  Prior to the game's release, I read in an interview that the developers pledged to make each and every house tell a story about the person who once lived there, and to that end I think they more than succeeded.  Sadly, my experience with the audio was the complete opposite.  Through my 7.1 surround sound headset, the audio positioning was all out of whack.  I would hear conversations that sounded as if they were taking place in the same room as me, for example, whereas they were actually outside or even on a completely different floor.  There were also some bizarre moments in which characters would endlessly repeat the same lines of dialog, as if they'd been possessed.  Thankfully, a recent patch apparently addressed most of those issues; but since I experienced them firsthand, I deem it necessary to mention them here.
If you're a fan of the stealth genre, I can't recommend Thief enough.  So long as you don't jump into it expecting a game with the same wide open, completely non-linear levels found in the originals and instead look to more recent games like Splinter Cell and Dishonored, you're bound to have a blast and get a hell of a lot of bang for your buck.  I dumped over 30 hours into it before I'd finished every story mission, for example, and I still had dozens of contracts left to take and bookoos items to collect in The City.  You can even customize the level of difficulty by toggling many different options — something rarely seen in modern games — and if you ever get tired of the campaign, you can take part in bonus challenges that have you collecting as many valuables before time runs out and more.   Although it isn't as critically acclaimed as its predecessors, I predict that some day people will look back on Thief and think, "You know what?  That was a damned fine game.  It deserved better."  I know for a fact that I'll be one of those people, and perhaps if you give it a fair chance, you will, too.