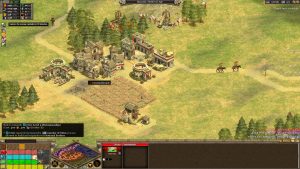 Have you ever gone digging through your closet only to rediscover a classic game that you never really played or appreciated quite as much as you should have?  I did just that a couple weeks ago, and since then I've been lost in pausable real-time strategy heaven. That's right, pausable real-time strategy.  Meet Rise of Nations, winner of multiple 2003 Game of the Year awards and one of the greatest, most sadly underappreciated and overlooked real-time strategy games of all time.
In Rise of Nations, you're tasked with guiding a single nation from the from the beginning of time through the modern age and beyond, one city at a time. If this sounds eerily similar to a certain Sid Meier turn-based strategy franchise, it's no coincidence, because Rise of Nations is in fact the brainchild of Brian Reynolds, lead designer of the incredibly popular and influential Civilization II. Unlike Civilization, however, Rise of Nations takes place almost entirely in real-time with the exception of the aforementioned pause feature and a Total War-esque, turn-based campaign.
There are tons of nations to choose from–18 to be exact–and each one features its own unique bonuses and units that often mimic actual history.  The Egyptians, for example, have the Power of the Nile, which means that they receive bonuses to food and wealth like starting with a granary, being able to construct more farms per city, and generating both food and wealth from farms.  Their exclusive units consist mostly of ancient mounted ones like chariots and camels.  The Russians, on the other hand, have the Power of the Motherland, which grants them territory bonuses like extra attrition damage–that is, damage to enemies in their territory–as well as greater boosts to national borders through civics research.  Unlike the Egyptians, their exclusive units include more modern ones like Katyusha rocket launchers and T-80 battle tanks.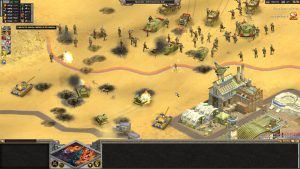 A common complaint about most real-time strategy games is that they place too much emphasis on speed over strategy.  While Rise of Nations is by no means a slow game, it tackles this problem in a number of interesting ways. The single most effective one in my opinion is the pause feature, which allows you to bring the action to a halt at any time while retaining the ability to scroll around the map, issue commands, research technologies, and even train units. On paper this might not sound too impressive, but in practice it's a godsend, especially when tasked with juggling multiple cities at once, conducting diplomacy, or even carefully deciding which technology to research next.
Another great feature that saves time and cuts down on tedious, unnecessary micro-management is that of citizen automation. In most other games, idle workers merely stand around, doing absolutely nothing until you give them orders. In Rise of Nations, however, you can have idle citizens automatically gather resources and even help construct buildings. This allows you to, say, assign a city to a hotkey, then press that hotkey at any time, click the "Train Citizen" button a few times, and let the game handle the rest of the work for you while you focus your attention elsewhere.
Resource gathering is handled quite differently as well.  Upon launching a game, the first thing that you'll probably notice is that resource gatherers don't return to drop-off sites with bundles of food and lumber in their arms.  Instead, they merely stand in place and contribute to a number representing how much of that particular resource you're bringing in every 30 seconds.  There are limits on how fast you can gather resources as well, and you can increase those limits through commerce research.  Unlike other real-time strategy games in which you can train an endless stream of workers and throw them at piles of resources, in Rise of Nations you must instead strike a balance between research and production in order to maximize your profits.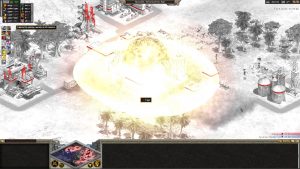 Something else that sets Rise of Nations apart from the crowd is its cities, which almost everything revolves around.  Each nation's starting city, for example, doubles as its capital and also serves as the primary objective in most skirmish and multiplayer matches. If a player loses his or her capital and can't recapture it in time, it's game over for him or her.  Losing cities doesn't just mean having them burnt to the ground, either.  In fact, cities can't be destroyed at all.  Instead, they become capturable once their hit points reach zero.  Upon claiming them, a player gains control of both the cities themselves and their economic structures.  Since cities are major resource hubs–you must establish trade routes among them, for example–and they contribute to national borders, which drastically helps limit enemy expansion and aggression, losing even just one of them can be devastating to your empire.
Even taking into account everything that's been said, however, Rise of Nations's two most iconic features are its journey through time and research tree.  After all, very few real-time strategy games can boast that they allow players to go from ancient times all the way up to the Information Age.  Rise of Nations not only does this, but it pulls it off magnificently.  As you advance through time, your buildings change to reflect each period and you also gain access to new resources and technologies.  The Classical Age allows you to mine metal and gain knowledge, for example, and the Industrial Age reveals oil spots that you can drill.  There's also a full-fledged research tree that's broken up into four categories:  military, civics, commerce, and science.  In general, military research increases your population cap, civics allows you to found more cities, commerce increases your resource caps, and science reduces the cost of research.
As if the core gameplay wasn't special enough, Rise of Nations also features a unique Conquer the World campaign.  No doubt inspired by the Total War franchise, Conquer the World tasks you with achieving world domination with an empire of your choice.  On the world map, which is turn-based, you must use armies to either capture enemy territories or defend those that you own.  Upon attacking or defending, you're faced with one of several types of real-time battles which range from typical skirmish matches (in which the victor either claims or holds onto a territory) to intense defensive stands in which you must protect one or more bases under constant attack.  Besides the benefit of increasing your nation's size, conquering territories also earns you bonuses like rare resources and tribute.  Tribute, which is a special type of currency, can be spent on territories, alliances, and even trading cards which can be used to bolster your forces in real-time battles or even weaken enemy territories on the world map.
If you don't care for the turn-based stuff and would rather hop into a multiplayer game, Rise of Nations has you covered there as well.  One of my favorite aspects of multiplayer is that the maps are always randomly generated, just like in Civilization and Empire Earth, and to top it off, there are a whopping 17 map styles to choose from.  There are loads of other options to tinker with as well, like how large each player's starting base is, how early players can attack one another, and what the victory conditions are.  There's even a game type called Peaceful Tech Race in which players can't attack one another at all, and must instead win by advancing to a specific age.  You'd be hard-pressed to find a real-time strategy game that offers more ways to play.
By now you're probably dying to ask me why, if the game is so good, I didn't play or appreciate it quite as much as I should have years ago.  That's a great question, and one that I unfortunately don't have a great answer to.  If I had to come up with one excuse, however, something that always turned me off was the game's choppy animations, which appear to run at a really low frame rate regardless of how many frames per second you're actually getting.  Indeed, Rise of Nations may look gorgeous in still shots, but in motion it's like watching an old-timey stop-motion film.  Only recently was I able to overlook that flaw in order to enjoy the game to the fullest extent.
There are countless cool features that I haven't yet discussed like the infinite queue which allows buildings to endlessly churn out units, spies which can perform espionage, generals which can strengthen troops, and even automatic naval transportation for ground units that enter water tiles.  Needless to say, Rise of Nations is a huge, complex game that's best experienced firsthand.  Although the game's original developer, Big Huge Games, folded in 2012, Skybox Labs resurrected it a few months ago on Steam in the form of Extended Edition which not only includes both the original game and its fantastic Thrones & Patriots expansion but also improves the animations and even includes Steam multiplayer and Workshop support.  There's quite simply no better time than now to experience (or re-experience) Rise of Nations, a true real-time strategy masterpiece and a game that deserves to be played and remembered.